BloomBerg Take a breath and consider this: Deaths caused by outdoor air pollution are already shockingly high, and they're expected to keep rising. That's despite efforts to clean up the world's factories, roads, and energy supplies.
In 2010, about 3.3 million people around the world died from prolonged exposure to tiny bits of dust and chemicals floating through the air. That figure is set to double by 2050, according to the most comprehensive study yet of global outdoor air pollution and its causes, published today in the journalNature.  
If you live in a country such as the U.S., which has been cleaning up its coal-burning power plants and increasing the gas mileage of its auto fleet, don't think you're in the clear. Of the 15 countries with the most deaths from outdoor air pollution, the U.S. comes in at No. 7.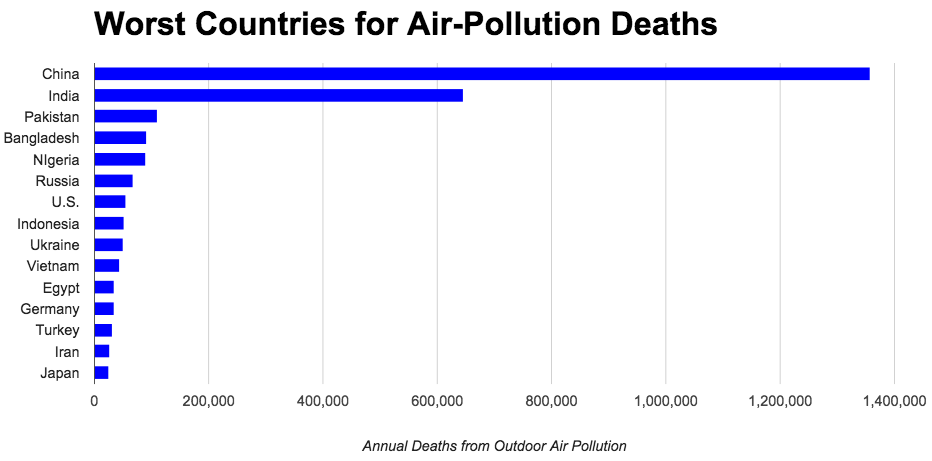 "This projection should sound alarm bells for public-health agencies around the world," wrote Michael Jerrett, an environmental health professor at UCLA, in a editorial published simultaneously in Nature. He said the results of the study were "surprising."
Outdoor air pollution and its health effects are difficult to track in countries where sensors are limited. The authors used new models of atmospheric chemistry, along with detailed country-level health and economic data, to estimate how many people die prematurely each year from outdoor pollution exposure. The findings give the best estimates yet of how different sectors of the economy contribute to negative health outcomes around the world.
Residential and commercial energy use—such things as burning trash and relying on diesel generators for electricity—are the biggest contributors to outdoor pollution deaths around the world, especially in densely populated areas in Asia, according to the study. An additional 3.5 million people die each year from indoor air pollution from wood and coal-burning stoves for cooking and home heating, according to previous research. 
In the U.S., the biggest producers of dangerous pollution are agriculture, power generation, and traffic. The findings about agriculture are somewhat controversial, because not enough research has been done comparing the toxicity of the pollution generated from fertilizers with the toxicity of other forms of pollution, the study authors noted.